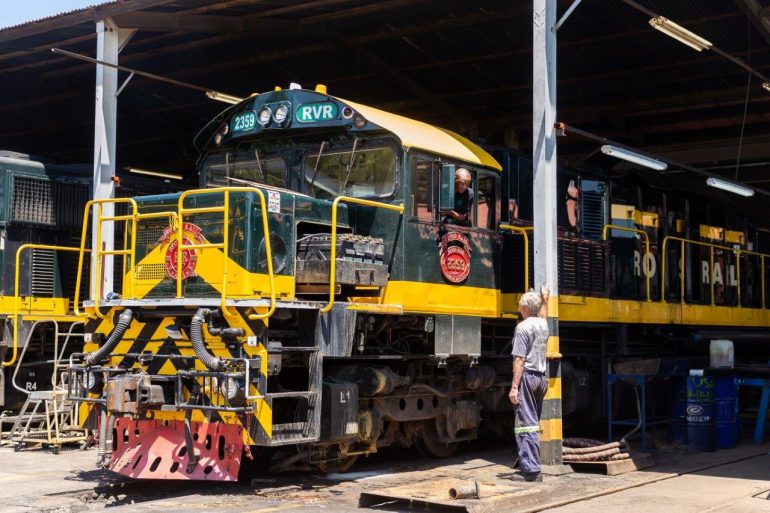 by Brenda Vos-Fitchet
It's taken us 30 years to earn our big reputation and earned it we have. Every step of the way.
Operating the most luxurious train in the world is a challenge. Not because we can't live up to the hype but because the national railway networks on which we are reliant are letting us down. Not on every trip mind you, but on enough that has seen our reputation take a few knocks.
We're operating a first-world product on third-world infrastructure, a system which in South Africa took a beating under our previous governmental administration. Jacob Zuma's presidency left this country bleeding and the consequences of his reckless actions can be felt in most industries. Sometimes it feels like we're watching our reputation being dismantled right in front of our eyes and we can be left feeling quite powerless.
The first challenge we have is not new but one that has certainly become more of a concern over the past few years. What many don't realise is that we are not permitted to haul our trains with our own locomotives and drivers. I'm not sure that any luxury passenger train in the world is. We are reliant on Transnet (South African Railways) for our traction and service, something we used to be very happy about because getting into the business of locomotives is not an avenue we ever wanted to pursue. They are expensive and also present enormous logistical issues so we were more than happy to sign on the dotted line three decades ago.
Fast forward to the present and we find ourselves entangled in a relationship with the most reluctant landlord only now the infrastructure has deteriorated. From 2009 to February of 2018, very little was invested into maintaining the railway infrastructure so signals and panel boards are sometimes not working, locomotives overheat and breakdown, drivers are absent from shifts and sections of railway line are bumpy. This is what prompted us to purchase nine electric and 14 diesel locomotives, and to recruit trained drivers, so that we can haul or our own trains.
On our three-night Victoria Falls journey, we are now allowed to pull the train from Musina to Victoria Falls and back. This has greatly improved the operational aspects of the trip and we are very happy with the results – we have our own depot at the border which houses a few of our diesel locomotives and we have set up accommodation for our drivers and mechanics. We've also done the same for the 15-day Dar es Salaam sojourn – we use our own splendid locomotives from Mafikeng to Dar es Salaam and the trip has pretty much run without a hitch in five years. So our big gamble is paying off.
Our second biggest challenge and one over which we truly have no control, is the monster that is cable theft. Again, this is not a new phenomenon plaguing Transnet and police but one that has certainly grown in efficiency and pace. When before it was a sporadic problem it is now something over which we worry. Local authorities and Transnet must be tearing their hair out because the crime syndicates arranging the theft of this valuable copper cable are well-oiled, slick operations with no-one able to predict where the theft will next take place. It's impossible to police every section of railway line across Southern Africa so we're all left feeling frustrated as none of us are equipped or permitted to relay the cable ourselves.
The ripple effect of this has been upsetting to all trains utilizing the tracks, not just ours. Delays are experienced by commuter, freight and passenger trains.
Over the course of 30 years, many at Rovos Rail have literally given the company blood, sweat and tears to not only create memorable experiences but also to turn the tide on global opinion of South Africa in the early 90's and be a success story of triumphant South African entrepreneurship. And slowly but surely ruthless and reckless politics, thoughtless leadership and an understaffed parastatal is unravelling the reliable and big reputation we have built for ourselves.
When delays occur our teams on the trains and on the ground perform logistical somersaults to keep guests comfortable and when necessary, to disembark them in remote locations so they don't have to wait the sometimes long hours with us. Over the years we have had to hire private vehicles and buses. We've chartered private aircraft at great personal expense so that we can transfer guests to the nearest airport to fly them out of the remote areas in which the train was brought to a standstill. We are under no obligation to perform these small feats and cannot claim from insurance for the additional and sometimes enormous costs. We do it because we know how upsetting it is for our guests when their once-in-a-lifetime trip has to be cut short due to delays.
So what can we do? Well, we control what we can and that is everything on board. Our quest for comfort and service on the trains as well as providing a variety of interesting excursions is first prize. Lead by an unrelenting Rohan, we are constantly striving to maximize everything on board. In fact, Rohan has recently redesigned the suites to allow for more space and storage. We have further improved on sound-proofing the trains by installing new windows in the rooms and adding insulation to the bulkheads. Rohan goes out on recce trips in countries such as Zimbabwe, Tanzania and Angola to inspect new railway lines, potential excursion sites and off-train accommodation options to either improve on existing itineraries or to launch new journeys.
In other words, we are not giving up.
Like many in our industry, we have had to deal with unforeseen obstacles for three decades and in the face of all this adversity we will persevere in our quest to remain the most luxurious train in the world and to keep building on the excellent reputation which we have earned and fought hard to keep for 30 years.